The Film
The Search for Santa Paws is exactly the type of movie that would run on ABC Family's "25 Days of Christmas." The special effects are bad, the music is bad, and the cast is filled with faces that you won't know, but swear you've seen elsewhere. In other words, it's perfect holiday fodder for the kids.
The whole "we need to save Santa Claus" theme has been done to death, but Santa Paws truly takes it to the next level. It manages to borrow from a variety of other movies, most of which are equally bad caliber.
Santa (Office Space's Richard Riehle) gets swiped by a cab, loses his memory, his magic necklace, and his BFF Paws (voiced by Zachary Gordon). Like all wandering homeless men, he scores a job as a local Santa, at a toy store newly acquired by married couple Kate and James Huckle (Bonnie Somerville and John Ducey). Oh -- and there are also orphans. You can't have a sappy Christmas movie without those, right? There are plenty of doe-eyed waifs, but the main ones are played by Madison Pettis and Kaitlyn Maher. Surprisingly, they are insanely cute and very well kept, considering how horribly they are treated. Apparently, it's not such a hard-knock life after all.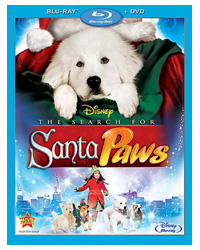 At least, it won't be for too long, because that's really what sappy Christmas movies are all about. Add The Search for Santa Paws to that pile, and add it you will, because the kiddos won't care much about the bad story or the cheesy special effects. It has Santa and puppies and presents aplenty. It also gets an extra point for making my kid fear the naughty list. Expect to buy this and watch it repeatedly.
The Picture
Santa's workshop is filled with all of the wonder and colors you'd expect. Colors throughout the movie are nice, as is the detail. The strands on Santa's beard and white hair really pop, but when don't they? That said, there just seems to be something missing here. Maybe a bit of magic? The 1.78:1 transfer is far from the best-looking Christmas movie, but certainly not even close to the worst.
The Sound
Santa Paws has a whole lot of dialogue, which is delivered nicely by this DTS-HD Master Audio track. However, it features an impressive amount of surround use, considering its low-budget background. There's plenty of chatter and street noises, and even a bit Santa's special effects fly through the soundfield on a fairly regular basis. The songs also deliver a nice punch, but there really aren't enough of them to call this a musical. Instead, they seem thrown in for good measure, like it's a holiday movie prerequisite.
The Extras
This release deserves a spot on the naughty list for this pitiful collection of extras. The main short is "The Hucklebuckle Hero," an annoying, but animated short featuring some of the pups from the movie. That said, the kids should lap up the entire seven minutes. Other than that, there's a music video, deleted scenes, and subtitle options for songs.
Final Thoughts
If you're stockings have been stuffed to the gills with movies from Christmas past, there's truly no harm in The Search for Santa Paws. Just remember that this one is geared towards younger kids. Adults will find little to nothing of interest here, unless you enjoy their smiling, reindeer-in-the-headlights gazes. Rachel C.

CLICK HERE FOR ACTIVITIES








STREET DATE: November 23, 2010
Direct prebook: 9/28/10
Distributor prebook: 10/12/10
Suggested retail price: DVD 29.99 SRP (US), $35.99 (Canada); Blu-ray $39.99 (US) and
$44.99 (Canada)
Rated: US: G / Canada: English and French not yet rated
Bonus Material not rated in the US.



About Disney's Blu-ray + DVD Combo Pack:

To provide consumers with unprecedented quality, value and portability of their favorite Disney movies, in 2008 Walt Disney Studios Home Entertainment pioneered the Combo Pack – a Blu-ray Disc plus a DVD in a single package.
Huckle Buckle Hero Intro (Bonus)
Digg It!
Add to del.icio.us
Stumble This